Green Garden's Excellent Environmental Management has been Awarded
Green Garden Aparthotel, part of Mallorquina Garden Hotelsand audited by SGS, received last November 29th at  Bruselas the jury's special award in the EMAS (Environmental Management and Control Systems European Awards) Awards. Green Garden's Manager, Joan Sastre, received such award in recognition of the efficient comprehensive management system of hydrological resources implemented at Green Garden Aparthotel.
The theme selected this year by Environmental European Commission has been "Water Management. Efficiency and quality". According to UE Environmental Commisioner, Janez Potočnik, "Water is a precious resource that needs to have a better management. I would like to congratulate EMAS winners for their exemplary water management in their organizations".
Green Garden Aparthotel, part of Cesgarden, SL Group, entered the EMAS system in  2001 and since that date their records have been assessed by SGS.
In this year's EMAS Awards, focused in water management, 27 organizations coming from 14 countries have been nominated in the categories of microenterprises, small enterprises, medium enterprises, big enterprises and public bodies.
EMAS Awards take place since 2005 and are the most prestigious recognition in the field of environmental management in Europe.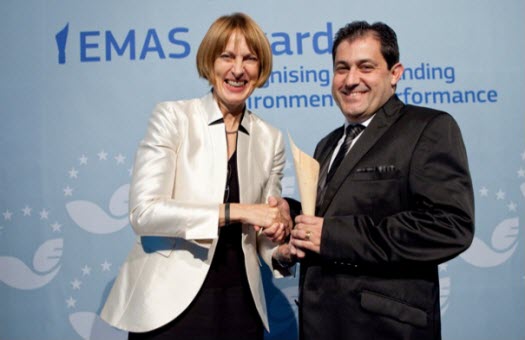 In the picture (left–right): Jacqueline McGlade, UE Environmental Agency CEO
and Joan Sastre, Green Garden Aparthotel's Manager
Cipriano Ferreiro Rachón
Balearic Islands Region
Business Development
SGS
Can Calafat, 63 Local 61 2ª Planta
Edificio Naves Blancas
07199 Poligono Industrial  Son Oms
Palma de Mallorca
t: +34 971 78 31 41
m: +34 682 053 527
f: +34 971 78 31 56
SGS is the world's leading inspection, verification, testing and certification company. SGS is recognized as the global benchmark for quality and integrity. With more than 70,000 employees, SGS operates a network of over 1,350 offices and laboratories around the world.