Training in works at height in the School of Security of Gijón
During the last month the facilities of the Security School of Gijón have hosted specialized training in the field of safety for the wind sector and in the field of rescue at height. In the third week of October a new training was developed according to the GWO standard of the wind sector, which involved the training of height training, first aid, fire fighting and manual handling of loads.
In the first two weeks of November an advanced training in height rescue has been developed for the Gijón Fire Department. The training has been a resounding success and has aroused expectations in other institutions in the area that have visited the facilities of the School to witness the training, which has been extended for 7 working days.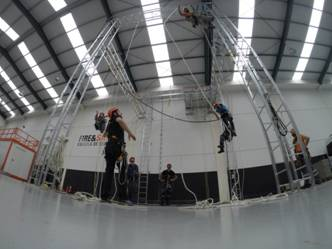 All this training has been developed with Aitor García Navarro, level 3 IRATA technician from SGS Marine Services, and with Borja del Valle, specialist technician in the field of work at height of SGS Safety School in Gijon.
For more information:
Borja del Valle Rodriguez
Escuela de Seguridad de SGS
C/ Arquimedes nº 585, Poligono de Roces 3
33211 - Gijón
Telf: +34 985 16 48 48
Móvil: +34 639 07 84 59
e-mail: borja.delvalle@sgs.com
About SGS
SGS is the world's leading inspection, verification, testing and certification company. SGS is recognized as the global benchmark for quality and integrity. With more than 85,000 employees, SGS operates a network of over 1,800 offices and laboratories around the world.