SGS certifies the Ministry of Ecological Transition as a sustainable manager of COP25
SGS was the body responsible for auditing implementation of this management system during the climate summit in Madrid.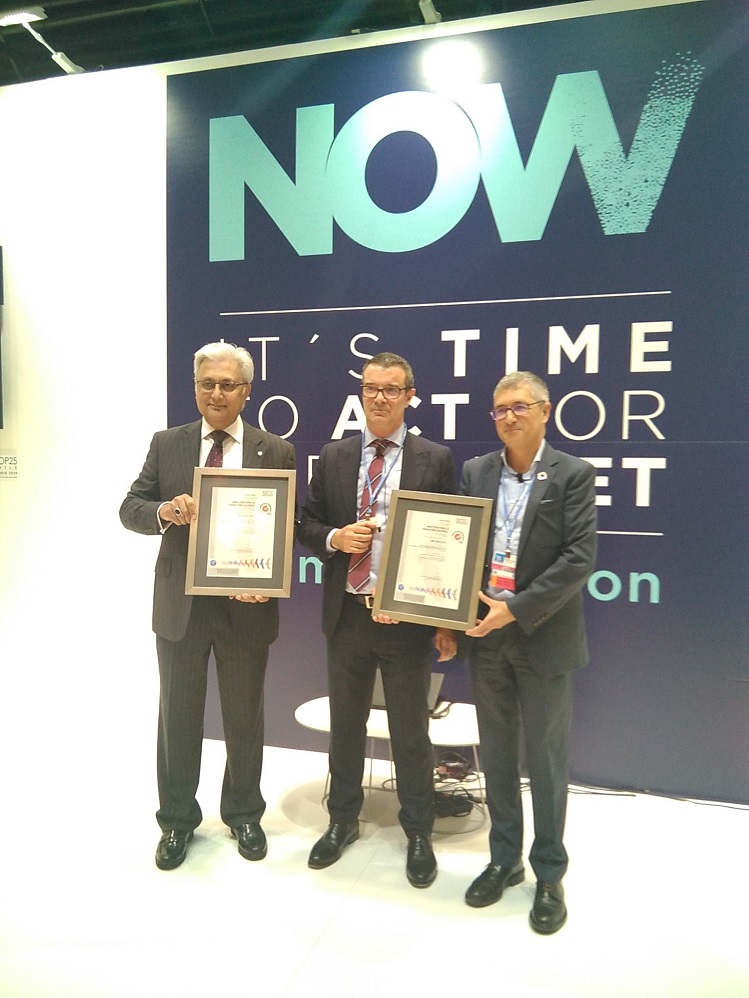 Last 13th of december, SGS General Manager Alejandro González handed Secretary of State Hugo Morán a certificate guaranteeing that the Spanish Ministry of Ecological Transition satisfactorily implemented a Sustainable Events Management System during the organisation of the Climate Summit in accordance with ISO standard 20121, which sets a framework for improving the sustainability of events focused on environmental, social and economic aspects.
SGS was the organisation responsible for auditing the implementation of this management system, which was selected in November by the Ministry of Ecological Transition to be applied to the organisation of the COP25. During his speech, Alejandro González stated that "Thanks to this certificate, the COP25 organisation is in line with the trend we have been seeing in large organisations and public institutions around the world: organising events that meet demanding sustainability standards with full transparency, certified and audited by independent third parties such as SGS, in this case."
The sustainability management system evaluates environmental issues such as the use and conservation of resources, emission reduction and biodiversity, among others; social aspects, including issues such as work, health, worker safety, accessibility, etc.; and economic questions covering matters such as innovation and/or impact on the global economy.
The work performed by SGS during this event highlights not only the importance of sustainable event management, but also demonstrates its own commitment to sustainability, since it is a carbon neutral company that follows an internal strategy to reduce energy consumption and emissions and was one of the first signatories of the RE100 initiative. Thanks to this commitment, in 2019 SGS was a leader in its sector in the DJSI (Dow Jones Sustainability Index) for the sixth year in a row. "In this sector it is essential to set an example, which is why we perform internal actions to improve our sustainability performance while working to create value for society and build standards for a better world", explained Mr González.
SGS aims to be a catalyst towards a low-carbon economy, providing services in many different sectors such as transport, industry, etc. During the handing over of the certificate, Alejandro González said: "We, SGS, the world leader in inspection, verification and certification, acting as an independent third party, have audited the implementation of the Sustainable Event Management System for the duration of this event, and we can certify that it meets the requirements of ISO 20121".
About SGS
SGS is the world's leading inspection, verification, testing and certification company. SGS is recognized as the global benchmark for quality and integrity. With more than 94,000 employees, SGS operates a network of over 2,600 offices and laboratories around the world.