Supervising mooring chains manufacturing at Vicinay
SGS inspectors have been involved in the manufacturing supervision of the Ichthys Central Processing Facility (CPF) offshore mooring chains together with Samsung Heavy Industries (SHI) personnel. They have covered the activities at Vicinay premises of Sestao, Deusto, Galdames and other subcontractors'. The supervised supply is around 24.950 tons of material including chains and accessories.
The activities of supervision of these mooring legs involved SGS inspectors for a total amount of over 10.000 hours. Among the manufacturing processes SGS inspectors monitored and/or witnessed:
Material reception
Fabrication, Traceability & samples identification.
Preliminary NDTs
Heat treatment
Proof load test
Dimensional control
Break load test
Mechanical test
Trial fitting
Final inspection: NDTs & marking
Packing, preservation and shipping
Documentation review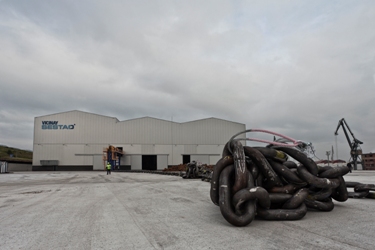 The Project
Ichthys project is located about 220 kilometers offshore Western Australia. It represents the largest discovery of hydrocarbon liquids in Australia in 40 years. The project is divided in three mega-projects rolled into one, involving some of the largest offshore facilities in the industry, a state-of-the-art onshore processing facility and an 889 km pipeline uniting them for an operational life of at least 40 years.
This project includes the construction of Onshore LNG facilities located in Darwin, CPF (Central Processing Facility), a column-stabilized, offshore semi-submersible production unit supporting hydrocarbon processing systems and utilities, as well as living quarters for about 200 people, FPSO (Floating Production, Storage and Offloading facility) a 336 meter-long ship-shaped, weather-vaning vessel has been designed to hold more than one million barrels of condensate, and GEP (Gas Export Pipeline) will be one of the longest subsea pipelines ever built.
Ichthys LNG Project is currently in construction and is ranked among the most significant oil and gas projects in the world.
Helping a big company in the Project
Samsung Heavy Industries is one of the largest shipbuilders in the world and one of the "Big Three" shipbuilders of South Korea. SHI operates manufacturing facilities at home and abroad, including ship block fabrication factories in Ningbo and Rongcheng, China and Geoje Shipyard, SHI's largest shipyard in South Korea.
SHI is specialized  in the building of high added-value and special purpose vessels, including LNG carriers, off-shore related vessels, oil drilling ships, FPSO/FSO's, ultra Large container ships and Arctic shuttle tankers. In recent times SHI has concentrated on LNG tankers and drillships, for which it is the market leader.
What about the manufacturer?
Vicinay, becomes the first producer mooring lines worldwide, providing solutions tailored to meet the needs of each customer family experience Vicinay along more than 200 years of work and effort, Vicinay Marine has achieved a world leader in the supply chain and mooring lines for offshore industry.
Vicinay has manufactured the mooring chain and accessories for FPSO and CPF, the biggest project in Vicinay´s history so far.
For CPF project Vicinay manufactured material for 28 mooring legs in four cluster of seven legs each and one mooring leg of spare material, 2 different sizes of studless link chain (diameter 178mm grade R4 & diameter 102mm grade R4S).
The solution | Industrial Supervisión
http://www.sgs.es/es-ES/Industrial-Manufacturing/Services-Related-to-Production-and-Products/Quality-Control/Manufacturing-Inspection-and-Technical-Inspection.aspx
SGS services as world's leading inspection, verification, testing and certification company ensure that your products, machines and equipment are manufactured according to all client's specifications.
For more information please contact with:
José María Pimienta González
Inspección y Asistencia Técnica
Director
SGS
Pol. Ind. Ugaldeguren II - P16
48170 Zamudio - Vizcaya
Telf: +34 944 525 000
E-mail: JoseMaria.Pimienta@sgs.com
ABOUT SGS
SGS is the world's leading inspection, verification, testing and certification company. SGS is recognized as the global benchmark for quality and integrity. With more than 80,000 employees, SGS operates a network of over 1,650 offices and laboratories around the world.