SGS involved in performance test of a prototype CSP plant in Maroc
SGS have been working with Airlight to develop a suitable Performance Test Protocol for their prototype CSP plant in Maroc since 2015. In different visits during the last years SGS personnel have had the opportunity to witness the performance of the plant monitoring the main parameters of energy production.
The Ait Baha Concentrated Solar Power Plant is located in Morocco near the city of Ait-Baha and occupies a land area of 24 hectares. The solar field has been realized with the Airlight Energy parabolic trough proprietary technology in a region with a solar resource of 2'120 kWh/m2/yr.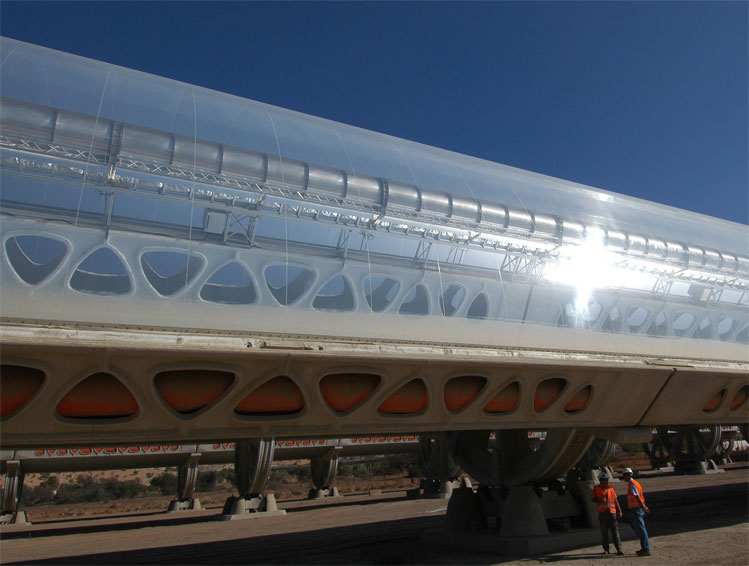 The plant is composed of three solar collectors and a TES (Thermal Energy Storage) system based on the packed bed of rocks technology. The solar field and TES are coupled to an existing ORC (Organic Rankine Cycle) through an air-to-oil heat exchanger.
The Airlight Energy CSP system is based on an inflated multi-circular arc trough with a concrete structure, and an air-based receiver able to operate efficiently at temperatures beyond 600 °C with a Storage Capacity of 5 hours. The collector concrete frame provides a rigid support for a stable operation of the mirror film system. The primary mirror is constructed from a multi-layer stack of polyester films whose topmost one is aluminized.
The collector's solar-to-thermal efficiency is expected to reach 60% over a relevant part of the year-round operation in high direct irradiance areas.
For further information Please contact:
José María Pimienta Gonzalez
About AIRLIGHT ENERGY
AIRLIGHT ENERGY is a private Swiss company that supplies proprietary solar technologies for large-scale production of electricity and thermal energy, and for energy storage. AIRLIGHT ENERGY has developed innovative and complete solutions for the markets of Concentrated Solar Power (CSP), Concentrated Photo Voltaic (CPV) and energy storage (Advanced Adiabatic Compressed Air Energy Storage – AA-CAES). In a break from traditional implementations of solar concentration systems, AIRLIGHT ENERGY has started from a diametrically opposite point of view, which makes use of the strong background in civil engineering.
About SGS
SGS is the world's leading inspection, verification, testing and certification company. SGS is recognized as the global benchmark for quality and integrity. With more than 90,000 employees, SGS operates a network of over 2,000 offices and laboratories around the world.