Chain of Survival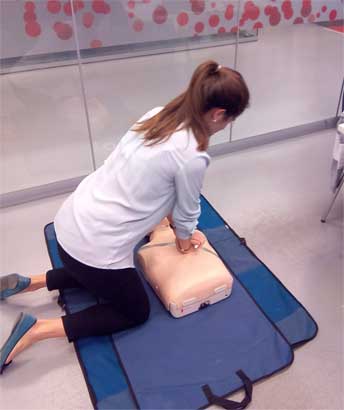 The Chain of Survival is the set of actions connecting a possible sudden cardiac arrest (SCA) victim with their survival. It encompasses the vital steps necessary to carry out a successful resuscitation. These actions include, among others, the early recognition of the emergency situation, calling the emergency services and the application of cardiopulmonary resuscitation (CPR) procedures. The importance of the Chain of Survival is highlighted in four steps.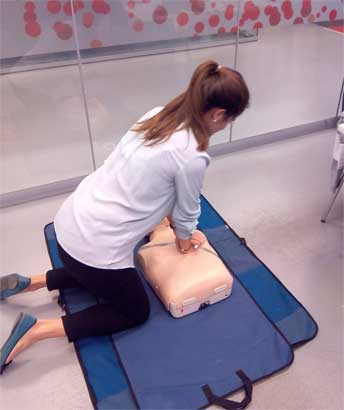 In any work environment the critical medical situations threatening a person's life cannot be neglected. Thus, it is vital to know how to recognize the earliest signs of a cardiac arrest, how to ask for health assistance by calling 112 and, and how to execute a proper CPR procedure before the arrival of external medical aid. This means that every person is a link in the Chain of Survival: if any of the links is not ready, the probability of a victim's survival is strongly reduced.
The SGS Safety School conducted three CPR specific trainings in the offices of the electric company Viesgo, in Madrid, during May 17th and 18th.
The assistants were able to practice the CPR procedures on an adult torso under the supervision of the instructors María Valls and José Alberto González. These techniques are recommended by the European Research Council (ERC) in order to conduct an adequate early assessment.
The objectives of the training were:
Learn how to apply the PAS principle (Protect, Alert, Relief) as the basis of action of any rescuer.
Learn how to conduct a primary assessment correctly, as a preliminary step in order to be able to recognize a cardiac arrest.
Learn to perform an adequate CPR procedure.

The training received good comments by the attendees, who appreciated the theoretical aspects and the practices, as well as the experience of trainers.
The SGS Safety School provides specialist training programs for companies in which safety is the primary objective.

For more information contact:
Begoña Garcia Serrano
Environment, Health & Safety division
Email: begona.garcia@sgs.com
 About SGS
SGS is the world's leading inspection, verification, testing and certification company. SGS is recognized as the global benchmark for quality and integrity. With more than 90,000 employees, SGS operates a network of over 2,000 offices and laboratories around the world.