SGS takes part in the Safe4All project - Safety 4 Disability: Inclusive Training on Safety & Health at Work for Workers with disabilities
A partnership of 7 European organizations are working on this project co-financed by the Erasmus+ programme which aims to contribute to the creation of suitable and safe working environments that will in turn facilitate the labour inclusion of people with disabilities.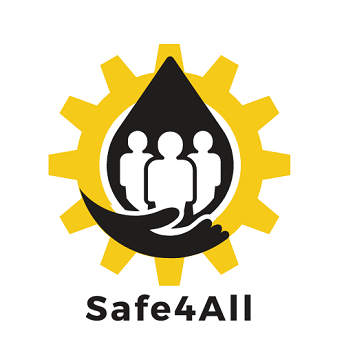 SGS is involved in the Safe4All project, which its General Objective is to contribute to create the suitable and safe environment for labour inclusion of people with disabilities. Via the resources that the project will create, the project aims to provide beneficiaries with the competences they need to deal with risks and safety at workplace and behave with respect for the safety of everyone.
Safe4All aims at contributing to promote a decent quality of life and to live independently as it focuses notably on inclusion, social protection and non-discrimination at work. This project also will enhance equal participation as it aims to effectively protect persons with disabilities from any form of discrimination and violence, and to ensure equal opportunities in and access to justice, education, culture, sport and tourism, and to all health services.
The project target groups are:
Persons with disabilities who will benefit from new, more tailor-made and appropriate training opportunities according to their learning needs as well as safer working conditions.

Educators/trainers who work with persons with disabilities who will be able to improve their professional competences on the project theme and their performances as well as promote the creation of new job opportunities.

VET organisations working in the project countries who deal with issues on safety and health in workplaces and will be able to increase their skills on safety and health (S&H) using the project results and will have learning resources available on the online learning space.

Public authorities who will have increased knowledge of good practices and raised awareness on the importance of appropriate inclusive trainings for workers with disabilities. This is turn will enable them to update existing regulations to increase inclusive training practices.

Small and Medium Enterprise who will have an increased awareness of the importance of appropriate training for their workers with disabilities and have better access to training from safety experts. This in turn will raise the safety level of their workplaces. Increasing of the continues learning opportunities of all workers.
And the main results will be:
A handbook that will provide Vocational Training on safety at work for workers with disabilities.

A toolkit that will provide educators/trainers and VET organisations with the knowledge and tools to deliver trainings on safety & health for persons with disabilities in the workplace.

A set of recommendations for policy makers and public authorities on how to improve safety & health in workplace for persons with disabilities through training regulation.
The partners that compose the consortium are the following ones:
Plataforma Representativa Estatal De Discapacitados Fisicos Asociacion (Spain)

SGS Tecnos SA (Spain)

CSR Innovative Solutions (Norway)

Stituto Regionale per Leducazione e Gli Studi Cooperativi Irecoop Veneto (Italy)

vzw Ubuntu Achtkanter (Belgium)

Italienische Handelskammer Fur Deutschland (Germany)

European Association of Service providers for Persons with Disabilities (EASPD) (Belgium)
More information about the project in the website or in the LinkedIn page.
ABOUT SGS
We are SGS – the world's leading testing, inspection and certification company. We are recognized as the global benchmark for quality and integrity. Our 96,000 employees operate a network of 2,700 offices and laboratories, working together to enable a better, safer and more interconnected world.